Star Wars Vintage Kraft der Macht-Set mit Speeder Bike ORIGINAL und SELTEN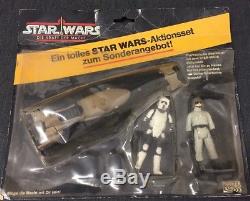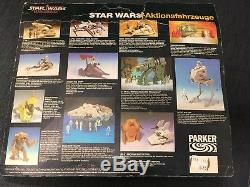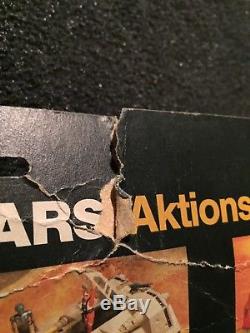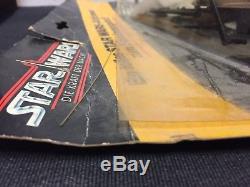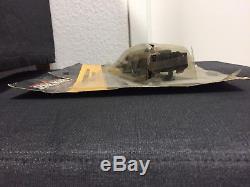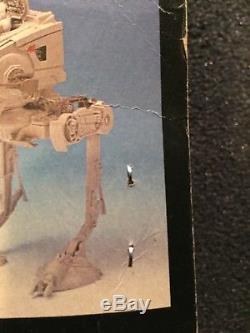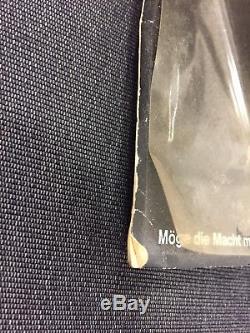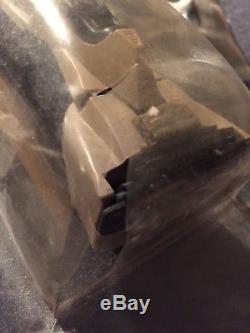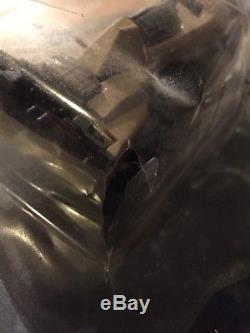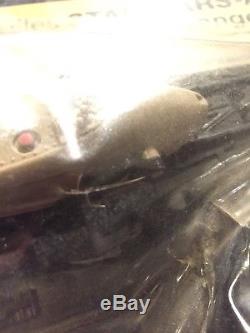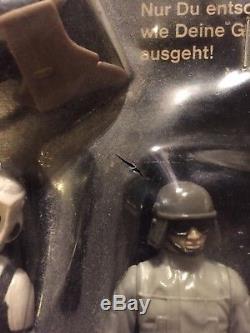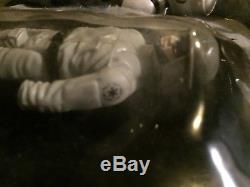 Ich biete hier eine absolute Rarität auf dem Star-Wars-Sammlermarkt an. Das deutsche Kraft der Macht-Set von Parker aus dem Jahr 1985 mit dem Speeder Bike, dem Biker Scout und dem AT-ST Driver alles original. Die High-End-Sammler wissen natürlich, wie selten diese Sets sind, ich möchte aber dennoch auf einige Details zu diesem Set hier eingehen.
Ich habe dieses Set zusammen mit anderen MOCs in einem Konvolut erstanden der Vorbesitzer hatte es vermacht bekommen, war selbst kein Sammler und wollte alles nur verkaufen. Ich selbst wusste nur, dass das Set selten ist dass es sozusagen einer der Holy Grails ist, war mir als normaler Sammler zu dem Zeitpunkt auch nicht bewusst.
Es handelt sich hier offensichtlich um ein seltenes Stück unter den ohnehin schon seltenen Sets der Kraft der Macht-Reihe. Besonders selten soll hier die Figurenkombination des Biker Scouts mit dem AT-ST Driver sein (bekannt aus Katalogen ist die Kombination Biker Scout und Chief Chirpa, wobei sich der Ewok dabei im linken Bubble befindet; es existieren Sets vom Biker Scout & AT-AT Driver sowie Biker Scout und Luke). Zudem ist der linke Bubble abgeschrägt, was ebenfalls weitaus seltener sein soll als die normale Variante.
Auf der Backcard sind weitere Fahrzeuge abgebildet. Es ist keine Anleitung zum Speeder Bike und auch keine Waffe für den Scout oder den Driver enthalten. Zustand: Wie ihr den Bildern entnehmen könnt, weist das Set mehrere Stresslinien und oben einen Riss auf. Dafür wurde der Blister rechts, links, unten und oben professionell und sauber getackert, was nach meinen Informationen bei Parker oder vor allem beim Händler selbst geschehen sein kann (aber nicht muss).
Das Set wurde von mir noch nicht gesäubert, was ihr an der dezenten Staubschicht erkennen könnt. Für alle weiteren Details schaut euch bitte die Fotos an.
Zusammenfassung: Sowohl das Set an sich, der Blister und die Figurenkombination sind wirklich ultrarar. Die Karte und der Blister sind original. Wenn der Blister nicht bei Parker getackert wurde, dann kann man sicher sagen, dass das Set in derjetzigen Konstellation, schon lange Zeit verweilt hat. Wer das Set ergänzen möchte, kann Anleitung und die Waffen sicherlich mit etwas Geschick hinzufügen ich wollte das Set aber ganz transparent so verkaufen, wie ich es erhalten habe. Ich habe zu diesen Sets allerdings auch die Auskunft erhalten, dass auch Sets ohne Waffen verkauft wurden das kann ich aber nicht mit Sicherheit sagen.
Letztendlich ist es aber auch nicht entscheidend, denn so oder so ist das Set in dieser Kombination und auch in diesem Zustand so nicht mehr zubekommen. Zum Versand/Übergabe: Ich würde natürlich ganz klar eine persönliche Übergabe bevorzugen, bei einem Versand würde das Set natürlich gut verpackt und versichert verschickt werden. Solltet ihr weitere Fragen haben, so schickt mir bitte eine Nachricht ich würde euch dann auch meine Mobil-Nummer geben und euch ein Video von dem Set übermitteln, sofern gewünscht. Gern können wir offene Fragen auch in einem Telefonat klären.
Parker's 1985 German "Kraft der Macht" set with Speeder Bike, Biker Scout and AT-ST Driver - all original. The high-end collectors of course know how rare these sets are, but I'd like to go into details on this set here. Background: I bought this set together with other MOCs in a bundle - the previous owner had been given the MOCs and was not a collector himself and just wanted to sell all the items. I only knew that the set is rare - that it is one of the "Holy Grails" so to speak, I was not aware of as a "normal" collector at the time.
Type of set: This is obviously a rare piece among the already rare sets of the Force of Power series. The combination of the Biker Scout and the AT-ST driver is very rare (known from catalogs is the combination Biker Scout and Chief Chirpa, with the Ewok in the left bubble, there are sets from the Biker Scout & AT-AT Driver as well as Biker Scout and Luke).
In addition, the left bubble is beveled, which should also be much rarer than the "normal" variant. On the backcard other vehicles are shown. There is no manual for the Speeder Bike and no weapon for the Scout or the Driver included. Condition: As you can see from the pictures, the set has several stress lines and a rip at the top.
The blister has cracks on the blister area of the Speeder Bke and over the AT-ST Driver and - as is often the case with these sets - the glue of the total blister has come off (except at the bottom). But the blister on the right, left, down and up was stapled professionally and clean, which can be done according to my information already at Parker (but not necessarily). The AT-ST Driver has an impeccable emblem on his right arm and his left arm is not MINT anymore (see photo). The set has not yet been cleaned by me (as you can see on the dust on the blister). For all other details, please take a look at the photos or ask.
Summary: Both the set itself, the blister variation and the figure combination are really ultra-rare. The card and the blister are original.
If the blister was not stapled at Parker, then you can safely say that the set in the current constellation, has lingered for a long time. If you want to complete the set, you can certainly add the manual and the weapons with some skill - but I wanted to sell the set as transparent as I received it. Ultimately, it is not important, either way, the set in this combination isabsolutely not available.
I will send with DHL. Further questions - very much appreciated: If you have further questions, please send me a message - I would give you my number and send you a video of the set, if desired. The item "Star Wars Vintage Kraft der Macht-Set mit Speeder Bike ORIGINAL und SELTEN" is in sale since Saturday, August 4, 2018.
This item is in the category "Sammeln & Seltenes\Science-Fiction\Star Wars\Action-Figuren\Classic 77-85". The seller is "aurajio" and is located in Achterwehr. This item can be shipped worldwide.